December 25th, once known a religious day celebrating the birth of Jesus Christ, has become a major economic event … Black Friday begets Small Business Saturday which produces Cyber Monday …
Yet, those are not the subject on FoxNews Nation website … where the War On Christmas is the focus … but the Real Victims of the War are ignored.
The tradition of giving gifts may go back to St. Nicholas, whose feast day is celebrated on Dec. 6. Popular stories of St. Nicholas, who was a Christian priest, and a rich person who traveled helping people, giving gifts of money and other presents. St. Nicholas did not like to be seen when he gave away presents, so the children of the day were told to go to sleep quickly or he would not come!
The legend of St. Nicholas has other stories including one of how a terrible famine struck an island and a malicious butcher lured three little children into his house, where he slaughtered and butchered them, placing their remains in a barrel to cure, planning to sell them off as ham. Saint Nicholas, visiting the region to care for the hungry, not only saw through the butcher's horrific crime but also resurrected the three boys from the barrel by his prayers.
While St. Nicholas is known for gift giving, there is also the legend of Krumpus who has been known to give children a stick or a lump of coal if they have not behaved.
Usually seen as a classic devil with horns, cloven hooves and monstrous tongue, but can also be spotted as a sinister gentleman dressed in black or a hairy man-beast. Krampus punishes the naughty children, swatting them with switches and rusty chains before dragging them in baskets to a fiery place.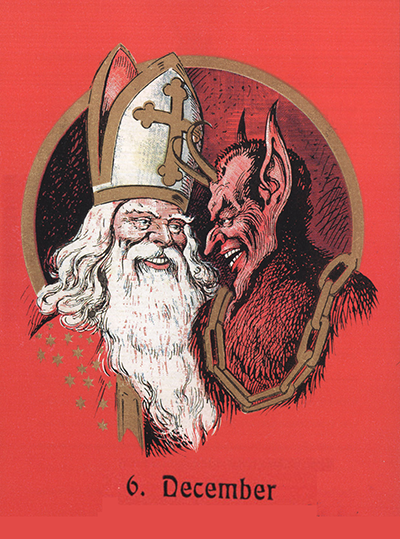 The legends may seem horrible yet, in today's Real World, there be more Krampus incidents then Fox News or the other media organizations publicize.

Consider these stories …
The fire at the Tazreen Fashion factory on November 24 in Ashulia, Bangladesh led to 110 deaths, mostly women paid as little as 37 dollars a month who were unable to escape the blaze or who jumped from elevated windows.
That fire is still having an impact as Bangladeshi garment workers clashed with police on Monday as some 10,000 protested over the deaths closing 50 factories.
Two boys were rescued from an Indian sweat shop after watching an 11-year-old friend get clubbed to death by a fellow child worker.
The 13-year-olds, who typically toiled from 8am to 10pm and then slept on the bangle factory floor, were ordered by bosses to cover up the crime after the attacker fled by washing away the blood.
Deepak and Rajesh, whose names have been changed to protect their identities, were then trapped in a tiny room and forced to spend 24 hours with the bloody corpse and its smashed skull.
They and the seven other children trapped in the bangle workshop, based in a two-storey house in capital New Delhi, were only freed when neighbours heard cries and called the police.
The pair, who earned just 1,000 rupees – or £11 – a month, are now being looked after by a charity but remain traumatised by their ordeal.
'We would wake up at 8am and, only after washing our faces, would start making bangles. Work ended by 10 at night by when each of us made 25 packets of bangles,' said Rajesh.
'Barely able to move a muscle, we would fall asleep right where we worked.'
Enslaved Children Freed After Being Forced to Make Christmas decorations

Police and child advocates broke padlocks and busted down doors in a surprise raid of a sweatshop in India, only to find a group of children imprisoned who had been forced to make Christmas decorations.
The children, as young as 8 years old, were kept in rooms approximately six feet by six feet and had been forced to work up to 19-hour days making the decorations, which advocates believe may have been intended to be sold on the cheap in the United States.

There are some tell-tale warning signs American consumers can be on the lookout for if they wish to avoid purchasing products made with child labor. First, if the holiday decorations you are purchasing are not labeled with the country they are made in you might want to be concerned. Next, if they have an unusually low price and are marked as "hand made" it is another red flag.
IMO, identifying Krampus is the stores that support these sweatshops and the Real Victims of the War On Christmas are those that use Christmas for profit-making off the backs of children.