[UPDATE : Please be sure to read the comments on this post. Nathan Busch, one of the candidates, responded that the tweets cited in the post were not issued by him. As the commentary stated, the tweets were attached to someone using that name, but it was unknown if that was in fact the candidate.]
One of the best things about Minnesota's new no-excuse absentee balloting process is that you can actually review the ballot in your home and do a little research on the candidates before filling in the oval.
Many of us will have heard from the major party candidates for Governor and US Senator … some may actually get a mailing in their Congressional race and Minnesota House contest … but probably not on Judicial candidates.
So, take your time now … do your research.
While Republican-endorsed candidate for the Minnesota Supreme Court, Michelle MacDonald has gained some notoriety ( for those needing a refresher, Michelle MacDonald was convicted last month in Dakota County and ordered by Judge Leslie Metzen to undergo a psychological evaluation as part of the pre-sentencing investigation), others may be flying under the radar.
Like Minnesota Supreme Court candidate John Hancock.
Who is John Hancock ? That's a great question … now many followers of the TEA Party know of the man made famous for his signature on the Declaration of Independence … but who is this John Hancock ?
Is he the same John Hancock who previously ran unsuccessfully for the same seat in 2000 ?
If so, he could prove to be a serious challenger … John Hancock received 639,915 votes or roughly 35% of the ballots cast.
Candidate John Hancock does not list a website on his filing … just a telephone number and email. As of today, candidate John Hancock has not responded to a request for questionnaire sent by the Minnesota State Bar Association.
Every voter is entitled to cast their ballot as they judge, but my vote will go to Justice Mimi Wright whose questionnaire responses and experiences can be found here.
This year there are two contested Supreme Court seats … but many more lower level judicial contests although there are no challenges to the Court of Appeals seats.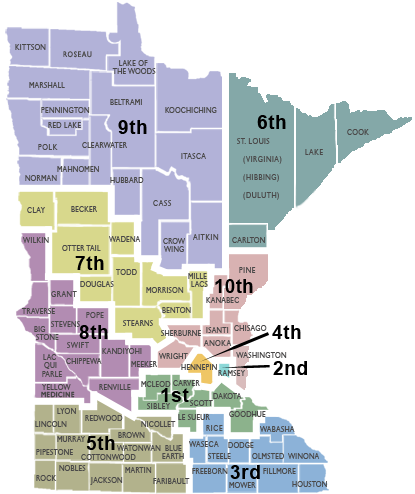 In Minnesota's Fourth District Court, there are a couple of contested seats.
For Seat 16, Bruce Michael Rivers is challenging incumbent James A. Moore
For Seat 43, Paul Scoggin and Bridget Ann Sullivan are competing for the seat being vacated by Janet Poston
For Seat 53, two candidates have filed for Judge Jane Ranum's seat: Bev Benson, an assistant Hennepin County attorney, and Chris Ritts.
For Seat 61, the two finalists for Judge Robert Small's seat are: Beverly Aho, attorney with the James Gilbert Law Group and Amy Dawson, who is the executive director of the Autism Advocacy & Law Center in Minneapolis.
In the 5th Judicial District, Judge Christina Wietzema is challenged by Windom attorney Nathan Busch.
For seat 11 in the 7th Judicial District, Mille Lacs Band of Ojibwe Tribal Court Judge Richard Osburn is challenging incumbent District Court Judge Andrew Pearson.
For seat 27 in the 7th Judicial District, incumbent Judge Steven J. Cahill faces Kenneth Kohler.
For seat 1 in the 10th District, incumbent Judge Susan Miles is challenged by Julie LaFleur, a family law lawyer and mediator.
For seat 14 in the 10th District, incumbent Judge Nancy Logering is challenged by Stacy Lashinski, an attorney and Realtor.
Now, that you know who is running … it's time to Google for a website or profile page … sometimes, you can even find postings that they have made about other subjects.
For example, in the Fifth District, Judge Christina Wietzema has a website where she lists her "roots" on a dairy farm, work as a lawyer, and being recommended as a Judicial nominee by the Minnesota Commission on Judicial Selection, and subsequently appointed to the bench by Governor Mark Dayton in 2012.
The challenger, Nathan A Busch, also has a website listing his impressive resume and a script for a radio advertisement.
Plus, the local newspapers have seen his advertisements.
A little further googling and there is a blogsite attributed to Nathan Busch including a reference to Governor Dayton appointing Judge Wietzema. Reading the blog, there are some interesting entries … such as after the Aurora shooting :
Even if there were one thousand people who saw a suspect commit a criminal offense, the rule of law demands that that suspect be given every opportunity to be heard in defense against the charges made by the one thousand. The suspect is guaranteed his right to be heard and treated humanely by a dispassionate court according to the laws that have been created by more than 225 years of american jurisprudence. The suspect has the right to have every flaw in his prosecution carefully considered by competent judges and if the flaw has improperly prejudiced his peers against him or if the flaw prohibited him from properly presenting his defense then his conviction must be overturned and a new trial ordered.
The process necessary to determine the guilt of a suspect is not cheap, nor is the right of every person in this nation to be free of undue government interference in the absence of evidence of wrongdoing. To allow our system to quickly punish a suspect simply because one thousand people saw him commit an offense is to allow our system to punish one thousand innocent people only because one person said he saw each of them commit an offense.
The absolute rule of law is neither inexpensive nor expeditious: however, it is far better than any alternative.
May the living victims and the families of the deceased victims eventually find peace and resolution.
And there are other commentaries made about America's place in the world and the presidency of Barack Obama … such as "We need a president with some titanium testicles!" and "I am no great fan of W. But at least he was able to kick some A** in the world and managed to get what ever he wanted from a Democrat controlled Congress. I bet that you cannot even convince your staff to let you use your own private toilet just off of the Oval Office!"
Then there is a Twitter account that appears to be inactive attributed to Nathan A. Busch with some interesting posts
I support The Family establishing a theocracy in the United States.

— Nathan A. Busch (@CountryLaw) May 9, 2010
By establishing a christian theocracy in the United States, The Family will solve the problems of immigration and rampant immorality.

— Nathan A. Busch (@CountryLaw) May 9, 2010
God bless Sarah Palin: at least she has the guts to stand up to these week-kneed democrat liberals pushing communism on the U.S.A.

— Nathan A. Busch (@CountryLaw) May 9, 2010
Whether these tweets and the blog posts are written by the man that is a candidate this November is unknown … as a candidate, Nathan Busch asserts that "I believe that: a Judge must abide by the law as written; must evaluate only the facts as presented; and, must meet the constitutional guarantee of fairness and impartiality."
Thus, his personal beliefs and opinions may be irrelevant, but as voters do their research, they will find them, and they will make their own decisions on whom to cast their vote for.
As Nathan Busch asserts … the citizens have a vote to determine who are our judges … let's also ask that citizens do their homework and not cast a vote for any name on the ballot … even if it appears to be the name of a famous American.