Mike McFadden has made a lot of observations that should make John Kline a little uneasy.
Surely, you have seen the commercial with Mike McFadden "waiting" at the debate podium for his opponent to show up … something that Mike Obermueller, the DFL-endorsed candidate knows only to well as John Kline has not participated in a public debate or forum since 2008.
Wannabe-Senator McFadden has voiced complaints about education … saying :
MIKE: "Or the fact that Minnesota has the worst education outcomes for minorities in the nation."
Ouch … that's gotta hurt John Kline, the Chairman of the House Education and the Workforce Committee.
Further, wannabe-Senator McFadden has stated his desire to close the achievement gap, so that "we can lift young people out of poverty and change the trajectory of their lives" most recently promoting "Preventing ISIS Recruitment In Our Backyard" … "First we need to improve education and employment opportunities for the young men targeted by terror recruiters."
Ouch … that's gotta hurt John Kline, the Chairman of the House Education and the Workforce Committee.
Since the McFadden commercial has aired, Al Franken and Mike McFadden have debated in Duluth. In fact, Mike McFadden is so interested in debates that his campaign is spending $4,250 for WFTC My-29 to rebroadcast the most recent debate on today (Saturday) from 4PM to 5PM.
John Kline is also on the television airways … selectively picking his slots to air his "spot" … in which he claims he is leading a bi-partisan effort to protect children from sex trafficking.
(Note : Read the facts which are different from what The Selling of Chairman John Kline wants known.)
That issue is not limited to television but also prominent in mailers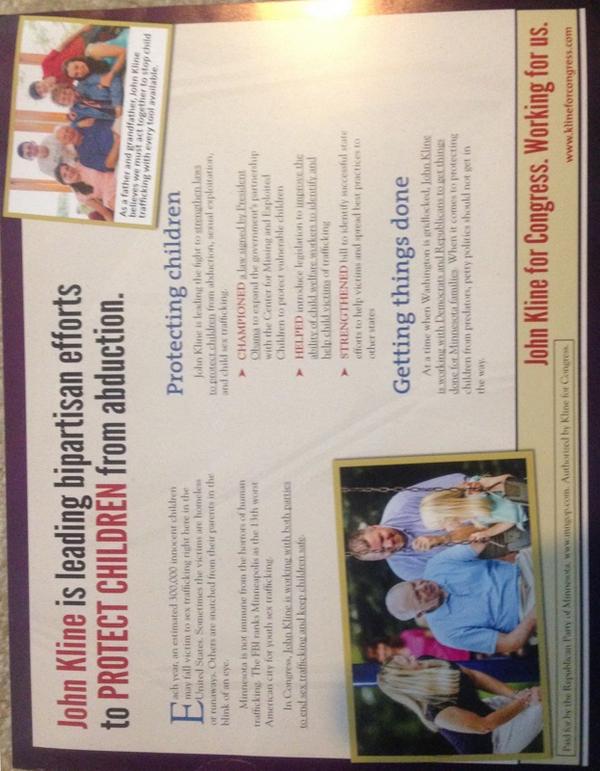 And on twitter
Protecting kids is not a partisan issue. I worked w/ both parties to pass leg to protect kids from sex trafficking. pic.twitter.com/gbmaW30Sn5

— John Kline (@Kline4Congress) October 10, 2014
As John Kline says … this is a bipartisan issue … after all the sex trafficking legislation was approved with nobody dissenting … yet that seems to be the campaign message.
The Kline commercial will be run many times before election day at a campaign cost of $356,066.67 on KARE11 ($106,820.00), WCCO ($170,912.00), KSTP ($56,970.67) and KMSP ($21,364.00). Rates vary depending upon program … for example, it will cost $7200 to run during NBC's Blacklist but only $250 to run during The Doctors.
It sure tells voters a lot about The Selling of Chairman John Kline that he would rather push the "Gregarious Grandpa" image than debate the issues that matter … when Mike McFadden complains about America's education shortcomings and the US Chamber of Commerce objects to Chairman Kline's legislation, isn't it time for the obstruction to end ?