John Kline has amassed $2,662,460 in campaign contributions this cycle (through October 15) and has received the endorsement of the Star-Tribune newspaper … as well as some pretty quick congratulations
@StribOpinion Endorsement: John Kline "a strong record of getting serious legislation enacted" http://t.co/rbWlCtnOqw

— Dan Hazelwood (@HazelwoodDan) October 25, 2014
For those that don't know Dan Hazelwood, he has been a Republican Consultant for over two decades and owner of Targeted Creative Communications, Inc.
Targeted Creative Communications is one of the companies that Kline For Congress has paid to help shape the image of John Kline.
Reading the Strib endorsement was … well, like reading the Kline For Congress mail drops and television commercials.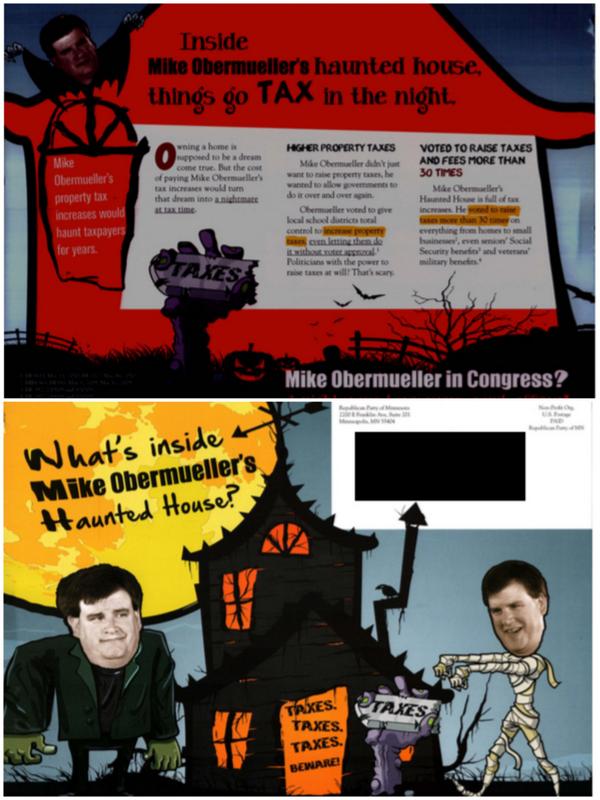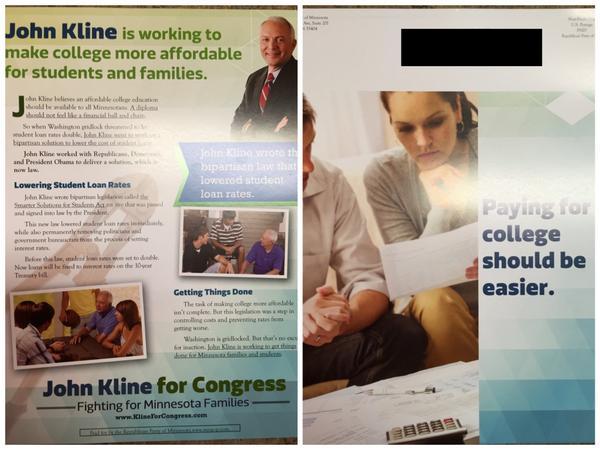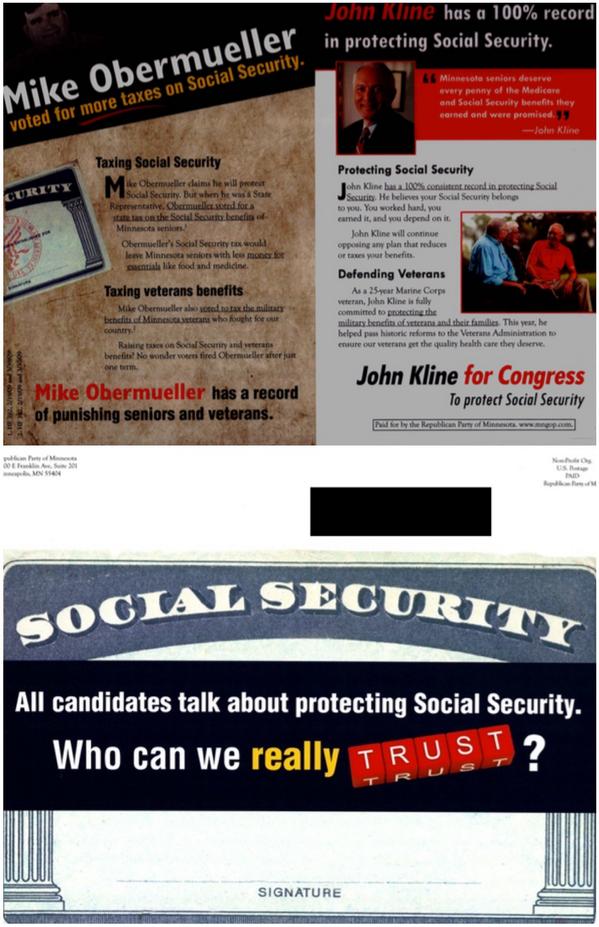 That's the Kline modus operandi … leave his Washington home to wave in a few parades … deKline invitations to public forums and debates … put a smiling face on television … accept newspaper's endorsements … and ride the power of incumbency to re-election.
But this year is different …
yes, we have seen the same parades, the same deKlining of forums and the same smiling face on television …
but this year, John Kline has taken notice of Mike Obermueller and is attacking him hard — truth be damned.
The student debt issue has caused John Kline problems … he proudly claims that he wrote the law … but does not want to acknowledge that his reform has produced higher loan costs for students … which will add to the ballooning $1.2 Trillion student debt problem.
Mike Obermueller to his credit has issued a press release "Pro-Kline lit piece misleading at best, Obermueller calls for meaningful student debt reform" … yet as the creative Kline campaign team knows, the Kline flyer is already in the voters hands and the Obermueller press release is at the mercy of the media to publish it.
Most recently, City Pages ran a story about John Kline's relationship with the For-Profit Education industry … "A congressman finds a new BFF" in an article entitled "John Kline's Descent From Patriot to the Whore of Higher Ed" …
Since entering Congress in 2003, Kline had carefully nourished this self-image of waste-cutting conservative. But when he was named chairman of the House Committee on Education and the Workforce in 2010, that zeal mysteriously dissipated.
Kline was in a prime position to slash the $33 billion annually going to for-profit colleges. Instead, he became the industry's fiercest bodyguard.
This issue is one that Mike Obermueller had already addressed in another press release (highlights below) :
Obermueller proposes crackdown on predatory for-profit college industry


Protecting veterans, preventing abuses of federal dollars, increasing transparency, and promoting good performance critical to success.
"It's been made clear that the for-profit industry is simply not doing an acceptable job of producing a high quality education," said Obermueller. "Worse, these schools have been abusively targeting prospective students, using various lies and distortions of the truth to recruit them."
One of the most disappointing aspects of this situation is that many of these reforms could already have been enacted if it weren't for Congressman John Kline. As chair of the Education and Workforce Committee in the House, Kline has repeatedly refused to regulate the for-profit college industry. While advocating for the protection of veterans' benefits or transparency in school choice to constituents, Kline has been protecting the way these predatory colleges have been acting when he's in Washington.
"John Kline has been one of the largest single obstructions on the path to ensuring for-profit colleges offer a high quality education," said Obermueller. "Between his refusal to regulate this industry responsibly and his votes to increase student loan interest rates, it's clear he's comfortable with students being nothing more than a profit center.
So this year, John Kline is confronting a challenger focused on the issues … so it was not really a surprise that the Rochester Post-Bulletin, joined the ECM chain of 32 newspapers, to endorse Mike Obermueller (highlights below)
"Two years ago, we endorsed Kline, believing his seniority and leadership would help Congress avoid the "fiscal cliff" of expiring tax cuts and sequestration that would impose mandatory, across-the-board budget cuts.
Sending Kline back to Washington would be rewarding him for failure.
"The biggest problem out there is gridlock," said Mike Obermueller, a Democrat from Eagan. "We need people out there who understand building communities and rebuilding the middle class."
"They shut the government down for 16 days as a political stunt to show them how much they don't like it," Obermueller said.

Obermueller doesn't come across as a typical Democrat, calling for decreasing the corporate income tax to broaden the tax base. Overall, he's critical of the incumbent's priorities.
"Kline is a top-down kind of guy. He wants to give huge tax breaks to folks at the top and hope that it eventually works its way down," he said. "I don't believe that model works. I believe we need to grow from the middle out. I believe the race turns on economics."
Obermueller's economic strategy focuses on college affordability, improving the Affordable Care Act and equalizing women's economic security. "We need to have working-class families with money in their pockets," he said. "You'll get more demand by having a stronger, bigger middle class. They are the real job creators."
[T]he Post-Bulletin Editorial Board is endorsing Mike Obermueller for the 2nd Congressional District. When Obermueller served in the Minnesota Legislature, he was chosen to carry the omnibus state economic development bill, a rare honor for a freshman representative. Obermueller credits his moderate reputation for helping recruit Republican co-authors on that bill
"Most people are most enthused for a fight out there as opposed to the end game and the solution," Obermueller said. "We have to have people who can actually move forward on these important topics, so laying out actual plans, having vigorous debate and building coalitions around it is really the most important thing."
That last line is really the difference in this campaign — "We have to have people who can actually move forward on these important topics, so laying out actual plans, having vigorous debate and building — on one hand, there is John Kline with his media consultants and money refusing to engage with the taxpayers versus Mike Obermueller who is actively engaging with the public … just ask the folks at Farm Fest, Transportation candidates' forum, Lake City candidates' forum, League of Women Voters forum, and completed the MPR candidate questionnaire.
Voters have a choice this November … the question is :
Will $2,662,460 buy your vote ?
OR, do you think its time for someone else to represent you in Washington ?