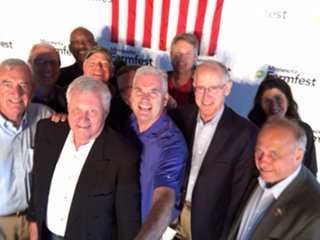 A picture can tell a story … sure looks like this photo is a few happy elected officials … not a surprise to see a bipartisan group of Congressmen showing up in Morgan Minnesota for FarmFest2017 … surely you recognize Tim Walz (D-MN-01), Tom Emmer (R-MN-06), Collin Peterson (D-MN-07) and Rick Nolan (D-MN-08) … but do also see : Kevin Cramer (R-ND-AtLarge), Dwight Evans (D-PA-02), Steve King (R-IA-04), Roger Marshall (R-KS-01), and Kristi Noem (R-SD-AtLarge) ?
So "Where Is Lewis" seems to be a question that many Second District constituents have been asking for months.
Yeah, where was Jason Lewis (R-MN-02) on Thursday when ELEVEN Members of Congress came to listen to Minnesotans ?
While Michael Conway (R-TX-11), Rodney Davis (R-IL-13) and a contingent of other Members of the House of Representatives were meeting with a large group of concerned citizens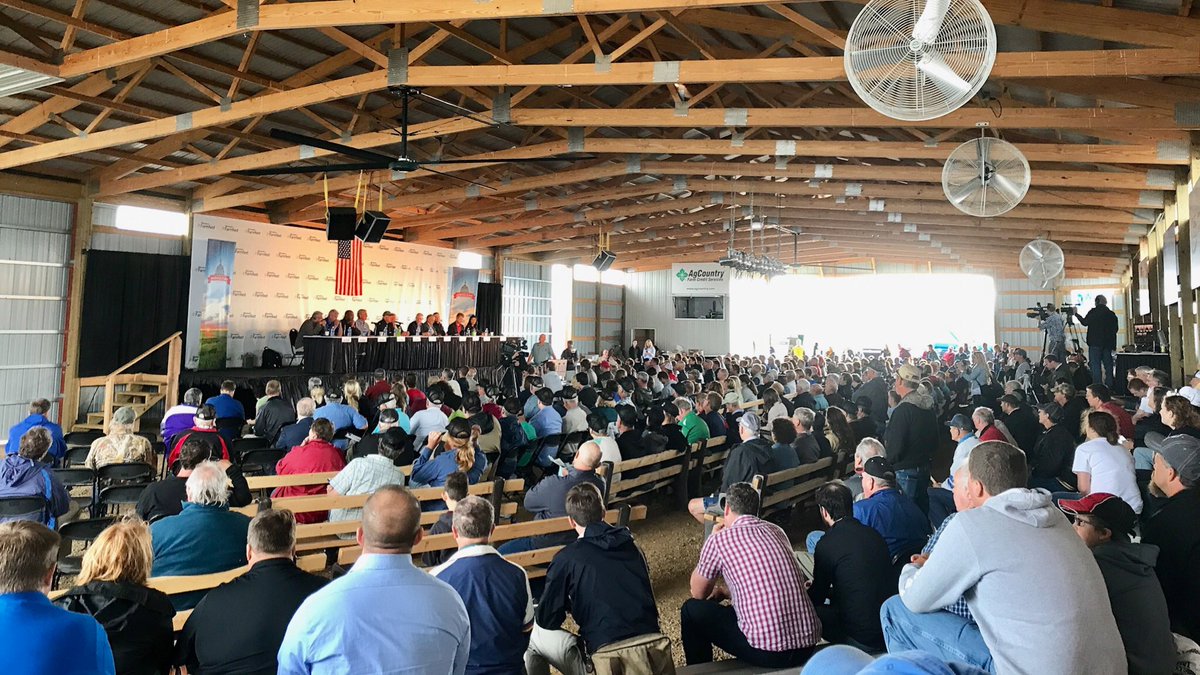 … Jason Lewis was tweeting …
Great to be able to answer your questions at Prime Therapeutics' employee town hall meeting and give an update on my work for #MN02 ! pic.twitter.com/i8p2fPhJL1

— Jason Lewis (@RepJasonLewis) August 3, 2017
Yeah, Congressman Lewis made himself available to a group of donors … turns out that Prime Therapeutics LLC Employee PAC (PrimePAC) made a $1,000 donation to the Jason Lewis For Congress on June 15.
Surprised that Congressman Lewis would avoid meeting Minnesota's Ag community ?
Nah … if you heard Jason Lewis on the radio ranting about past Farm legislation, it is not a surprise that he would rather meet with his donors.

What didn't Jason Lewis get to hear from the ag community ?
Fun stuff … like commodity programs and crop insurance, conservation on agricultural lands, agricultural trade, H2A visas for temporary workers, nutrition (SNAP aka food stamps), farm credit, rural economic development, agricultural research, disease, drought, conservation, bioenergy and organic agriculture … just a few of the things that affect the livelihood of the people who attended FarmFest2017.
While FarmFest is an annual event, this year was very important for Congress to hear from the community as the Agricultural Act of 2014 (aka Farm bill) is set to expire next year. And to the credit of Mike Conaway and Collin Peterson, they are holding listening sessions during August where various Members have participated … and believe it or not, but some Members who are not assigned to the Agriculture Committee have come to these forums.
So, ya gotta ask when some Members were willing to travel over 1,100 miles to listen to Minnesotans, Where Was Jason Lewis ?
The former radio personality has let his views known … on a variety of subjects from farm subsidies, crop insurance programs and food stamps … and Republicans who support them. Remember the Lewis Mantra : I'm going to say what I believe, and I don't care who it traumatizes.
Radio personality Lewis had a pretty easy time bashing farmers and food stamp recipients to his Twin Cities audience … but will that change now when he was elected to represent the Second District and its 33,431 farms ?
So rather that travel to "listen" to the Minnesota Ag community, Congressman Lewis holds an "employee town hall" !
Ya gotta wonder when the net farm income for the entire agricultural industry has fallen 50% over the past four years, why Congressman Lewis wouldn't be there ?
Congressman Lewis has virtually avoided legislation that is handled by the Agriculture Committee … sponsoring only two bills — H.R. 2657 Processing Revival and Intrastate Meat Exemption Act or the PRIME Act (to exempt slaughtering of animals from federal inspection requirements) and Tom Emmer's H.R. 442 Cuba Trade Act of 2017.
Could it be that he doesn't hear from farmers as much as he hears from the Trump Administration ?
Let's not forget that President Donald Trump's budget proposal, released earlier this year, called for cutting more than $28 billion out of crop insurance programs as part of the $231 billion reduction in all from farm programs over the next decade (which does not include 29% cut in food stamps).
Maybe he knows Sam Clovis, President Donald Trump's nominee for Agriculture undersecretary for research, who when asked whether the U.S. Constitution explicitly authorizes federal crop insurance, he said, "It does not. If you look at the enumerated powers, there's no, nothing in Article 1 Section 8 that authorizes subsidies of any kind."
Well, that certainly sounds like Jason Lewis !
Yet, somehow when the 2018 Farm bill is voted on, ya gotta suspect that Congressman Lewis will succumb to political reality that farmer's vote and support the subsidies and insurance programs — while calling for support for the $190.9 billion Trump food stamp cut (as well as the $2.3 billion new fee to companies that sell the food stamps.)
Now, if Congressman Lewis was at FarmFest, he would have heard Minnesota Department of Human Services Commissioner Emily Piper state that almost 12 percent of Minnesotans receive SNAP benefits every month; 70 percent of those are seniors, people with disabilities and children, "We know that food security for the hungry at the expense of economic security for the men and women who grow the food in the first place is a false choice."
Minnesota Farmers Union President Gary Wertish also expressed concerns over the SNAP (food stamps) cuts — "I'd urge you not to do that. A higher percentage of rural people are in the SNAP program than there are in urban areas."
Surely Congressman Lewis would have not liked to have heard Republican Mike Conaway "The top 20% spends more on food than the bottom 20% make. Every single one of those guys that are against it live in that 20 percent bracket that don't care what the cost of food is … [They] couldn't give a rat's rear end, and so that's the ones who hate it.""
Hmmm … no wonder that Congressman Lewis was meeting with his donors … there are certain things you just don't want to hear (especially from the Republican Chairman of the Agriculture Committee) or from other government agencies
Here are five facts about how SNAP impacts a child's future.

Kids Need Snap: When we talk about the number of people who participate in SNAP, we're talking about a lot of kids. In fact, nearly half (44 percent) of all people who participate in the SNAP program are children. [USDA]

SNAP Benefits Support Families With Kids: Two-thirds (67 percent) of all SNAP dollars go to families with children. [USDA]

SNAP Can End Poverty: Adding SNAP benefits to a family's budget can mean the difference between living in poverty or not. In 2014, for example, SNAP kept about 3.8 million children out of poverty. [Center on Budget and Policy Priorities]

SNAP Affects A Child's Education: Research found that low-income kids who had early access to SNAP benefits were 18 percent more likely to graduate from high school than low-income kids who didn't. [Bureau of Economic Advisors]

SNAP Affects A Child's Health: When kids in need have access to SNAP, they have a lower risk of anemia, lower levels of obesity, fewer doctor visits, and fewer hospitalizations. And when pregnant moms have access to food stamps, it reduces the likelihood of low birth weight by 23%. (Low birth weight is linked to infant mortality, cognitive development and chronic disease later in life.) [Bureau of Economic Advisors]
OK, let's summarize … as has been stated before, there are three parties in Congress – the Responsible Republicans, the Minority Democrats and the Power (aka the Freedom Caucus).
Thus, with the Farm bill due to expire next year, a bipartisan group of legislators are holding "listening sessions" with the goal of authoring a bill this year. The message they heard covered a wide cross section of the nation's issues — concerned with the nation's relations with Mexico and other countries (because Mexico is a large importer of dairy products and because farmers need more labor from temporary immigrant workers under H2A visas), broadband expansion to rural areas, high healthcare costs (as best expressed by Minnesota Farmers Union President Gary Wertish "Not everyone can work off the farm to get healthcare benefits. Take the politics out of it and get something done"), the need to maintain crop insurance levels (Kevin Paap, Minnesota Farm Bureau President reminded everyone "We're under a lot of financial stress in agriculture now with low prices"), and that the SNAP program provides a source of food for children, the disabled and the elderly.
Let's commend the Members of Congress who have participated in these town halls (already held in Florida, Texas, Minnesota and California) who heard these concerns … and recognize what we have in elected in Minnesota's Second District — a Congressman who rejects public forums to meet with his donors.
As House Agricultural Committee Chairman Michael Conway asked the FarmFest audience, "Are we a monarchy or a republic ?" and responded to his own question, "We're a republic if we can keep it."
Rephrasing that question "Are we a government of the People, by the People, and for the People" or do we want the Best Congress Money Can Buy ?