When Frederick Trump Sr. died in 1999, the estate tax rate was 55% for estates worth more than $650,000 … and watchers of the Republican Presidential debates remember the comment that Donald Trump inherited over $100 million … so somehow Donald J. Trump, Sr. was able to survive despite the "Devastating Death Tax" which imposes a crushing tax on family-owned businesses.
Good for him.
Now as President, Trump doesn't want anyone to have to face the "Devastating Death Tax" he faced, he wants to eliminate the estate tax … and House Republicans are listening.
Minnesota's Second District Congressman Jason Lewis has sponsored H.R.631 – Death Tax Repeal Act of 2017 (along with 98 other Republicans).
In previous sessions, Third District Congressman Erik Paulsen and Sixth District Congressman Tom Emmer sponsored H.R.1105 – Death Tax Repeal Act of 2015 which had 134 sponsors … so, this is something that the Republican-controlled Congress should be able to deliver.
This surely will please the Trump Administration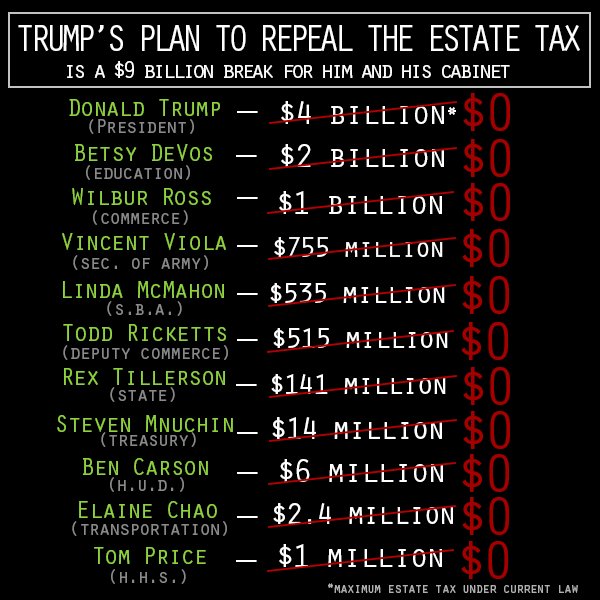 But, how can a politician counter the fact that the repeal will go to the wealthiest … well, simple, as "Representative" Paulsen did … visit one of your constituents and let voters think that eliminating the "Death Tax" will save a local business and not benefit the Trump Cabinet.
Met w @SearsImports employees in Minnetonka today who discussed eliminating estate tax many MN family-owned auto dealers are concerned about pic.twitter.com/WHP4w7Urto

— Rep. Erik Paulsen (@RepErikPaulsen) August 14, 2017
Hmmm … while many Members usually cite the strawman argument the estate tax is destroying the family farm (which you would need some #AlternativeFacts to suggest that when studies suggest that only a couple hundreds of estates would have any tax liability), "Representative" Paulsen is focused on auto dealers.
FunFact : some of the recent donations to the Paulsen For Congress committee have come from auto dealers
Charles D. Luther of the Luther Automotive Group $2,000
William Bloomer of Lexus of Wayzata $1,000
Paul Walser of Walser Automotive $1,000
Kjell Bergh of Borton Volvo $1,700
NATIONAL AUTOMOBILE DEALERS ASSOCIATION PAC $1000
What do we know about Sears Imported Autos and how the "Devastating Death Tax" could a crush a family-owned businesses ?
The highlights from a February 17, 2017 Strib article tells all that needs to be known :
Sears Imported Autos invests and grows

Sears Imported Autos, the big Mercedes dealership that spent $5 million in 2011 to overhaul its Minnetonka facilities, has invested another $1 million to add sales and service of Mercedes Metris vans and Sprinter cargo vans and RVs.
The dealership, which sells 180-plus new-and-used vehicles a month, several years ago decided to focus exclusively on Mercedes, selling off its BMW operation, at a time when competitors were diversifying brand offerings. Sears has seen revenues grow from about $60 million in 2010 to more than $100 million since the economic recovery kicked in in 2010. The business employs 110 people.

The late Don Sears, who died in 2011, was a farm boy who came to town and eventually owned a car lot on Lake Street. He bought in 1971 what was then Walker Motors of Wayzata in 1971, an authorized Mercedes-Benz/BMW dealership.

The business today is run by Sears' son in law Don Davidson, also one of the owners with three other brothers-in law.
Gosh, if there was any "Devastating Death Tax", it didn't seem to crush this family-owned businesses.
Let us remember that Erik Paulsen sponsored H.R.8 – American Taxpayer Relief Act of 2012 which reformed the estate tax regulations.
For 2017, up to $5.49 million of an individual's estate will be exempt from federal estate tax, with a 40% tax rate applied to any excess over the exemption amount.
With proper planning a couple can shield nearly $11 million.
OK … so the #MathGuy in 2012 realized that the national debt was a problem … and supported a "death tax" … but now with a national debt exceed $20 trillion, "Representative" Paulsen believes that the "death tax" is now "devastating", and crushing family-owned businesses.
Sorta makes you wonder who "Representative" Paulsen represents (please refer to the FunFact listed above.)
Heck, let's be honest … instead of eliminating the "death tax", why not "reform" the "death tax" to what it was when Donald Trump got his inheritance (and the National Debt was under $6 trillion), that could make a dent in today's $20 trillion national debt.
In the meantime, when looking for your next new car … make it a Mercedes, and help out a small business … they could be faced with a "Devastating Death Tax" if "Representative" Paulsen fails to deliver for them.