August 23, 2017 … the re-election campaigns take off …

August 25, 2017 … U.S. Rep. Erik Paulsen uses White House talking point "Obstruction alert" in OpEd

Elections matter

Elections have consequences
Yeah, 2020 may seem like a long time from now, but last week, President Trump was in full "Build the base" rally mode in Phoenix … meanwhile, Congressman Erik Paulsen, feeling the heat from numerous Letters-to-the-Editor and marches and rallies which featured complaints about his lack of accessibility, announced

Why wouldn't President Trump be rallying for a second term … after all, his first term featured :
— Mexico paying for a border wall
— TrumpCare that Americans "can expect to have great health care. It will be in a much simplified form. Much less expensive and much better."
— Thanks to President Trump, U.S. infrastructure will "once again be the envy of the world" because of his "$1 trillion infrastructure plan"
— Appointing "The judges will be pro-life" and "judges very much in the mold of Justice Scalia."
— We gonna win so much you may even get tired of winning and you'll say 'Please, Mr. President, we beg you sir, we don't want to win anymore.
OK … so President Trump has reason to smile after his rally … the people are Loyal to him.
And Loyalty to Trump has quickly become the most potent issue for the Republican base … those that waver become targets for Presidential tweets and primary challenges.
Of course, primary challenges and tweets can be avoided by simply showing your loyalty to President Trump.
So, it was that potentially twelve groups must have felt like they won the lottery, when they got the call that Representative Paulsen would listen to their concerns … what criteria was used to determine who "won" and what issues they wanted to discuss is unknown … but #PhotoOpErik did get a few photos to prove that he is accessible.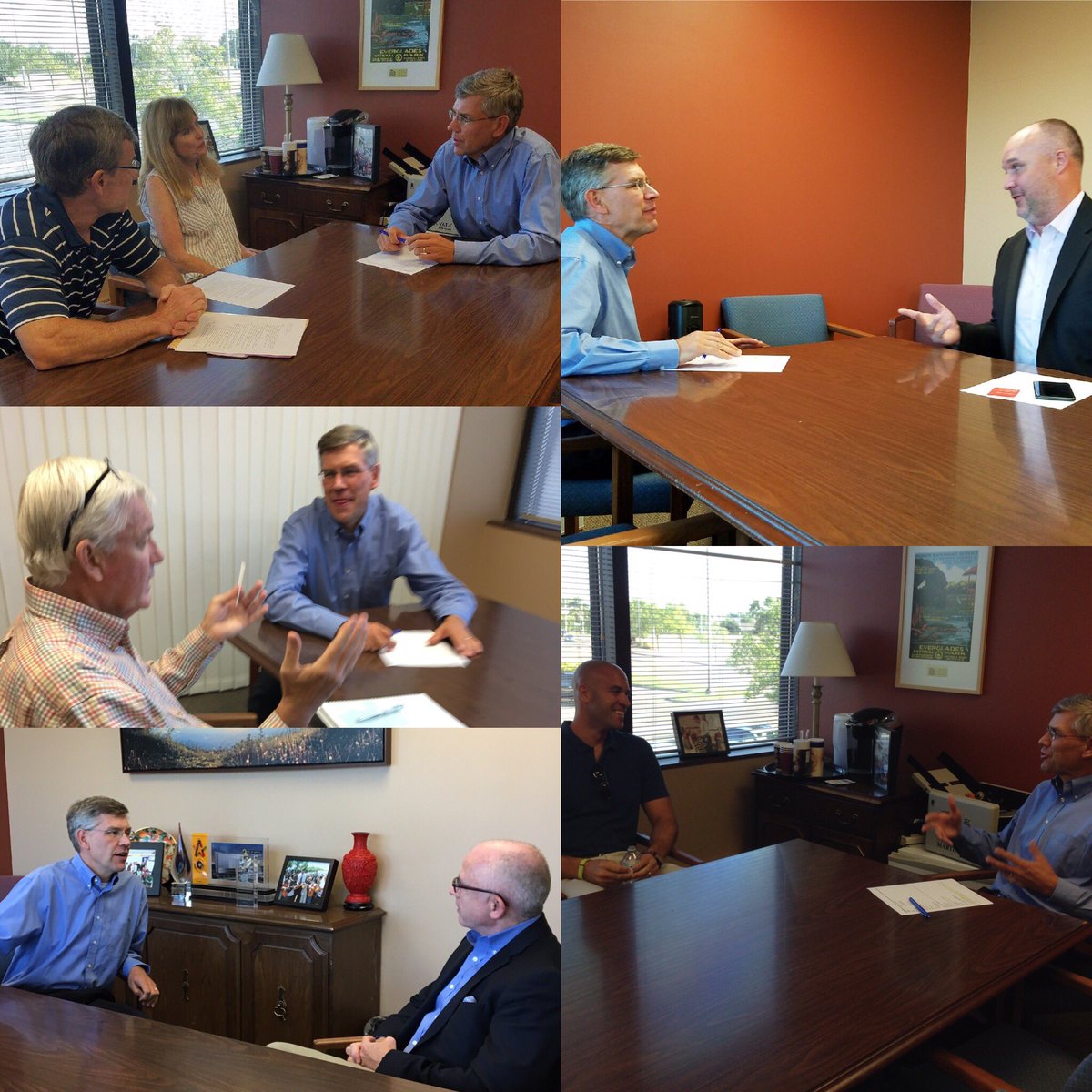 Ya gotta wonder how many of them asked what Congressman Paulsen was doing to help President Trump … and the likely response was to give them the heads-up that the Strib would be publishing his OpEd : Klobuchar, Franken impede the path of an outstanding judge
Yeah, you know that President Trump has had more judges confirmed by the Senate at this juncture of his presidency than the two previous presidents – Obama and Bush … but there is a backlog awaiting action by the Senate Judiciary Committee … Trump inherited a whopping 108 court vacancies when he became president and still has over 100 openings to fill.
Why so many is a great question.
The premise of the Paulsen OpEd is the need to reject the Senate traditional process as the "Stalling Stras' nomination is the latest example of partisan game-playing in Washington."
OK … since the Senate bears the "advise and consent" responsibility (Article II, Section 2 of the Constitution) let's review the Senate process … traditionally, presidents would seek "advice" from the Senator where the vacancy occurred. After nomination by the President (under President Trump, he has been known to make an announcement and then delay sending the paperwork — some more than seven weeks later), the home state Senator sends a "blue slip" indicating that the candidate has been reviewed — it's a process that has been going on since 1917.
But this is the Trump era … and an opportunity for Erik Paulsen to make a statement.
First, Congressman Paulsen issued a press release announcing Paulsen Creates Judicial Selection Committee for Minnesota Federal District Court Vacancies.
Hmmm … House overreach into the Senate duties ?
Constitutionally based ??? The Senate has "advise and consent" responsibility not the House.
Sounds like someone is echoing Donald Trump GOP acceptance speech, saying "I alone can fix the system".
When and how often Paulsen's Judicial Selection Committee for Minnesota Federal District Court Vacancies met, defined candidates, and reviewed/approved them is unknown … but what is known is that in January 2017, Congressman Paulsen reached out to David Stras asking him if he would be interested in serving on the US Court of Appeals for the Eighth Circuit. After Justice Stras agreed, Congressmen Paulsen, Emmer and Lewis sent a letter to the White House seeking his appointment (source : page 68 of Stras questionnaire response)
Gosh, for someone that is concerned about "partisan game-playing in Washington", wouldn't ya think he should have gotten at least one DFLer to weigh in ?
The Paulsen OpEd complains about how unfairly Justice Stras is being treated :
Stras has no confirmation hearing in sight, even though other judges nominated around the same time have either had a hearing or will have one soon. When the Senate held a confirmation hearing in July, it was for another Eighth Circuit nominee — Judge Ralph Erickson from North Dakota — whose nomination was submitted to the Senate after the White House submitted Stras' name.
Yep, Judge Erickson has had a committee hearing … after all his name was submitted by a North Dakota Senator (not a Member of the House of Representatives) … "blue slips" were signed … but the committee has not moved his nomination for a vote.
Guess if you follow Senate traditions, the Senate can work quicker.
What Congressman Paulsen does not mention about Judge Erickson nomination is that the slot has been open since April 22, 2015.
Why wasn't that filled ? Over two years, and yet Congressman Paulsen never complained about "partisan game-playing in Washington".
A little background on the slot that Judge Erickson has been nominated.
This seat was vacated by Judge Kermit Edward Bye, an appointee of President Bill Clinton.
President Obama nominated Jennifer Klemetsrud Puhl, a federal prosecutor, to fill the vacancy on January 28, 2016.
Puhl, who had the support of Senators Heidi Heitkamp (D-ND) and John Hoeven (R-ND), received a hearing on June 21, 2016, and was unanimously moved to the floor on July 14, 2016. However, Puhl's nomination ran into a blockade on confirmations imposed by Senate Majority Leader Mitch McConnell, and was never confirmed.
Hmmm … what a missed opportunity for Congressman Paulsen … let's re-write his Strib piece
Despite her superb qualifications and bipartisan support, Jennifer Klemetsrud Puhl' advance to the federal court is being held up by Republican senators.
This needs to stop.
Yep, "partisan game-playing in Washington" did NOT need to be stopped then.
Yet, ya gotta wonder if Representative Paulsen is so upset about the Senate inaction, why doesn't he seek Senator Klobuchar's seat in 2018?
Maybe he will … after all, he used his Paulsen For Congress campaign twitter account to send a notice to his follower that he is loyal to President Trump by bashing Senator Klobuchar
ICYMI: My OpEd in the Star Tribune on Friday. https://t.co/7h2wN0PCVM

— Erik Paulsen (@Erik_Paulsen) August 27, 2017
Elections Matter … and Elections have consequences.
President Trump will not be on the ballot in 2018 … but Erik Paulsen will be … the question for voters is : Can you tell the difference between Trump Policies and Paulsen Policies ?