PREFACE :
Erik Paulsen regularly issues a video Correspondence Corner in which he responds to constituent questions.
It is a great ploy — Congressman Paulsen determines what question is to be answered … thus, providing him an opportunity to portray himself as effectively responding to issues that he wishes to address as if they are the most critical issues that voters want addressed.
The MN Political Roundtable will be evaluating Congressman Paulsen's responses and encouraging readers to offer their own assessments.

Yesterday's topic: H.Res.630 – Requiring each Member, officer, and employee of the House of Representatives to complete a program of training in workplace rights and responsibilities each session of each Congress, and for other purposes.

Today's topic: HR 3905 – MINNESOTA'S ECONOMIC RIGHTS IN THE SUPERIOR NATIONAL FOREST ACT
In this week's Correspondence Corner, Erik Paulsen answers a question from Tyler in Dayton about his vote to protect the Boundary Waters.
It was a bill that divided the Minnesota delegation
Emmer bill on mining rights in MN passed 216-204. How the delegation voted: pic.twitter.com/7uV2f70owp

— Sam Brodey (@sambrodey) November 30, 2017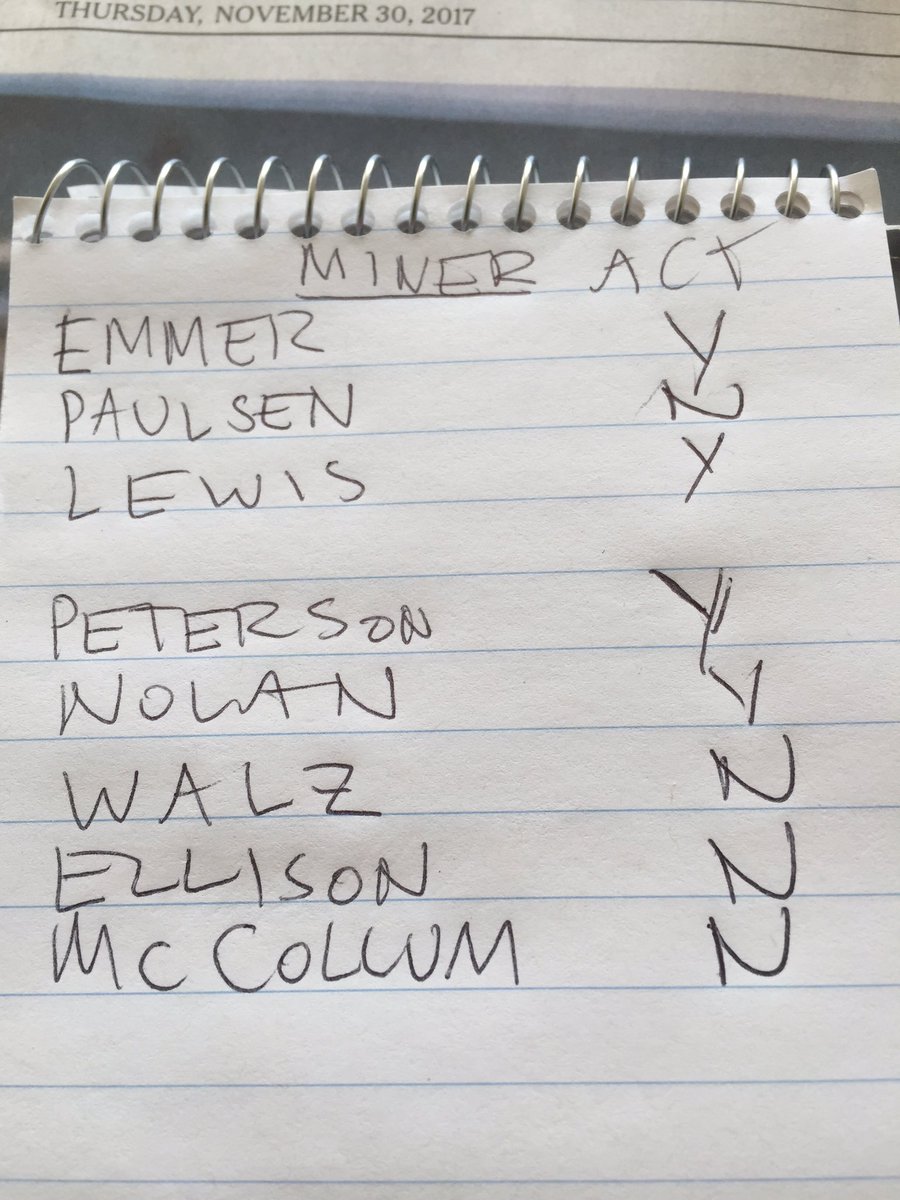 After the vote, there were statements made
The BWCA is a national treasure, and we need to preserve its natural beauty for future generations to enjoy. My statement on my vote to protect the Boundary Waters: https://t.co/PnkoZgbyWm

— Rep. Erik Paulsen (@RepErikPaulsen) November 30, 2017
By passing the MINER Act today, we are protecting more than ten thousand jobs and billions of dollars in revenue and education funding, while leaving an extensive process intact to protect and preserve the environment and our state. pic.twitter.com/CdWHozTeKP

— Tom Emmer (@RepTomEmmer) November 30, 2017
Clearly, the views did not fall along party lines.
So what's the background ?
H.R. 3905 would restore Twin Metals' leases. Based on an analysis of information provided by the affected agencies and Twin Metals, CBO estimates that Twin Metals would pay rents totaling less than $5,000 a year over the 2018-2027 period.
Further, CBO expects that production from those leases would begin in 2027 and we estimate that royalties would total $7 million in 2027. That estimate accounts for the possibility that production would not occur until after 2027. About half of the royalties ($3.5 million) would be paid to the State of Minnesota. Because the outcome of the litigation between Twin Metals and the federal government is uncertain, CBO assumes there is a 50 percent chance that the firm will have the affected leases restored under current law. Thus, we estimate that enacting H.R. 3905 would increase net rents and royalties by about $2 billion over the 2018-2027 period.
This project is expected to create 650 direct and 1,300 indirect jobs.
Representative Emmer envisions a larger job potential at "10,000 jobs".
1,950 or 10,000 jobs …. heck, it's jobs … so why would anyone object to that ?
Well, some Members of the Committee on Natural Resources did … voting 17 Republicans YES – 13 Democrats NO to approve the bill for a vote by the full House.
Why the objection ?
Well, because it would risk the health and vitality of the most visited wilderness area in America, the Boundary Waters Canoe Area Wilderness in northern Minnesota (BWCAW). The BWCAW and the neighboring Voyageurs National Park power the economy of that region, supporting 22,000 jobs and $1.4 billion in visitor spending, all of which are dependent on the unspoiled character of the more than 1,000 lakes in the area. This legislation would reverse recent decisions by federal agencies and stop an environmental review in its tracks in order promote a Chilean mining conglomerate's proposed copper sulfide mine that would sit right at the edge of the BWCAW.
Hmmm … "thousands of jobs and billions for Minnesota" could be at risk … yep, a good reason to be concerned.
In fact, Congressman Tim Walz offered his thoughts
My full statement on H.R. 3905: https://t.co/lNjMSc3GMP pic.twitter.com/NMSb5ybGNo

— Rep. Tim Walz (@RepTimWalz) November 30, 2017
Yet, when the full House voted, it was approved by a 12 vote margin with 22 Republicans voting against the Emmer bill.
And, yes Erik Paulsen was one of the dissenters … and it is something that he deserves praise for.
Well, limited praise … 'cause ya gotta wonder if this bill would have impacted another state, would his vote be different ?
Well, his vote history suggests yes.
Just look at his votes on the Keystone XL Pipeline, HR 1734 Improving Coal Combustion Residuals Act of 2015, HR 2822 Protecting Streams from Mining Waste, and many other bills.
Yes, Congressman Paulsen deserves some praise for this one vote … but let us remember that he has voted to allow copper-nickel mining in Minnesota before.
But let us also praise Tyler in Dayton, Andy of Eden Prairie, and all the other people who have voiced their concerns to Congressman Paulsen.
It's an issue that Minnesotans care about … and one that Congressman Paulsen appears to be sensitive to.